Tanja Zeeb
The Dynamic of Friendship. Analysis of French Moralist Concepts from a Philosophical Perspective
Personal Information
Born 1978 in Freudenstadt/ Germany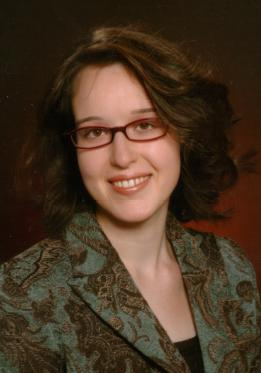 tanja.zeeb@grk-freundschaft.uni-freiburg.de
1998-2005 Studies of Philosophy, History and Comparative Germanic Philology and Scandinavian Studies at the Albert-Ludwigs-University of Freiburg/ Germany, at Stockholms Universitetet and Södertörns Högskola/ Sweden.
2001-04 Editorial collaboration at volume 17 of the University of Freiburg's Collaborative Research Center Identities and Alterity, published by Hans-Helmuth Gander, entitled Anerkennung – Zu einer Kategorie gesellschaftlicher Praxis, Würzburg: Ergon 2004.
2004 Final degree and master thesis in philosophy on Michel de Montaignes Philosophy of Friendship, which in 2005 was honored with the Max-Müller-Award for Philosophy and Ethics of Freiburg's Albert-Ludwigs-University.
2005 Internship at the Churches' Commission for Migrants in Europe, located in Brussels.
Since 2005 scholarship holder at the University of Freiburg's PhD research group (Graduiertenkolleg 1288) Friends, Patrons, Clients.
Publication
Die Wirkung Nietzsches auf die deutsche Gesellschaft der Jahrhundertwende im Spiegel der Tagespresse. In: Nietzsche-Studien 33 (2004): 278 – 305.
PhD Thesis Subject: The Dynamic of Friendship. Analysis of French Moralist Concepts from a Philosophical Perspective
Supervisor: Prof. Dr. Hans-Helmuth Gander
Tutor: Prof. Dr. Ronald G. Asch
This research project is situated in the realm of practical philosophy and will focus on the concepts of friendship as found in the writings of selected French Moralist authors in the Renaissance and Enlightenment periods from an historical perspective. In particular, those of Michel de Montaigne, François de La Rochefoucauld, La Bruyére, Vauvenargues and Nicolas Chamfort will be discussed.
The writings of the Moralists provide particularly fruitful material for an analysis dealing with friendship. In their philosophical and anthropological reflections, the Moralist authors, typically abstaining from normative statements, attempt to observe and descriptively contemplate humankind in the plurality as well as the heterogeneity of its manifestations. The human being is never regarded as an isolated individual; human existence is not considered in and for itself, but always as an existence having a worldly interconnectedness with the existence of others. Moralist thinking functions relationally. Accordingly, a close social relationship such as friendship must take up a central position in Moralist thought, which is clearly evident in the multitude of statements regarding friendship in moralist literature. It is remarkable that this substantial material has hardly been evaluated from a philosophical point of view. This neglect may be traced to the literary form of expression which characterizes the Moralist style — which may seem foreign to philosophical methodology — as well as to the Moralists' deliberate deviance from scientific and analytical structure of argumentation and from the systematic presentation of ideas.
For the French Moralists, friendship seems to be dependent on two conditions, personal authenticity and equality. Friendship, therefore, must be of socio-philosophical interest: in the court societies of the 17th and 18th century, social life is organised on a strictly hierarchical basis and is characterized by calculated distance or even disguise, and by strategies to guarantee opportunities for the advancement of one's prestige and social position. However, a friendship with characteristics of equality and authenticity actually undermines the functional principles of such a society. Regarding authenticity another perspective is apparent: the conflictual structure of authenticity and disguise can be interpreted as an ethical counterpart to the epistemological complex of truth and illusion, which, originating in a specifically sceptical impetus, constitutes a significant and recurrent motive in Moralist thinking. It is these connections that will be traced in the project's analysis.
The analysis of the concept of friendship in French moralist thought intends to reveal the lines of tradition to which the modern understanding of friendship is tied, since during the period studied — the transition from the Middle Ages to Modern Times as well as the Enlightenment — paradigms have been established which continue to have a lasting effect on contemporary concepts of friendship.